Amsterdam News: Hunger remains major issue in the city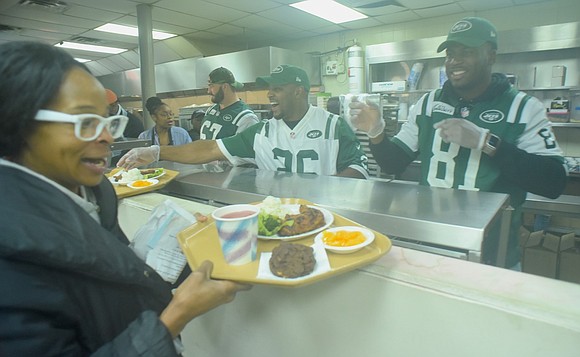 Youma Nafo, who serves as food pantry coordinator at Harlem's African Services Committee, said his organization has noticed an increase in the number of people who need pantry services over the past two years. 
"Even though we try to accommodate everyone and we do sometimes run low on food, we
never turn away clients," Nafo said. "If we have an increase in funding we will be able to better serve our hungry clients."
Dr. Melony Samuels of the Bed-Stuy Campaign Against Hunger shares a similar story.
"Currently, we're experiencing an increase up to 50 percent, in new clients, of which 40 percent of them were adversely affected and displaced by Hurricane Maria," she said.
In the Bronx, Joseph Kuffour, executive director of Inspirational Food Pantry, said his organization feeds 1,000 people per month; however, help is needed to meet the demand.
"We still need more funding to be able to feed more people than what we currently feed," he said.
According to a recent report released this month from Hunger Free America, approximately 15 million American adults lived in food insecure households with at least one person employed in the years 2014 to 2016.
In New York City from 2014-2016, 1.2 million New Yorkers (one in seven of the city's population) lived in food insecure homes, compared to 1.4 million from 2011-2013 and 1 million from 2004-2006. One in five children in New York City lived in food insecure homes from 2014-2016.
"While unemployment decreased and wages rose during the last few years of the Obama administration, it is shameful that America, New York State and New York City all still have higher levels of hunger than before the Great Recession," said Joel Berg, CEO of Hunger Free America. "We still face a nation, state and local epidemic of the 'working hungry.' Nationwide, the abysmally low minimum wage clearly is a chief cause of hunger."
As families prepare for the holiday season, numbers indicate that many people across the five boroughs are still struggling. According to a survey report titled "Working New York Still Hungry: New York City and State Hunger Report," released this month by Hunger Free America, many food pantries are struggling to meet the demands.
This year city food pantries and soup kitchens fed 6 percent more people than the year before, on top of an increase of 9 percent in 2016, 5 percent in 2015 and 7 percent in 2014.
Hunger Free America says President Donald Trump has proposed slashing the Supplemental Nutrition Assistance Program by $192 billion, and House Republicans have also proposed major cuts to the program. Food pantry and soup kitchens leaders say such cuts would cause their clients to struggle even more.
Approximately 40 percent of the city's pantries and kitchens indicated they were not distributing enough food to meet demand, and 35.4 percent indicated they had to turn people away, reduce the amount of food or limit their hours of operation.
"It is unconscionable that, in the richest city in the history of the world," said Berg, "one in five children still can't always count on enough food. It is equally unacceptable that a third of our food pantries and soup kitchens lack the resources to meet the growing need. The sky-high hunger level of New York and America harms health, hampers education, traps families in poverty, fuels obesity, eviscerates hope and thus drags down our entire economy and places our national security at risk."